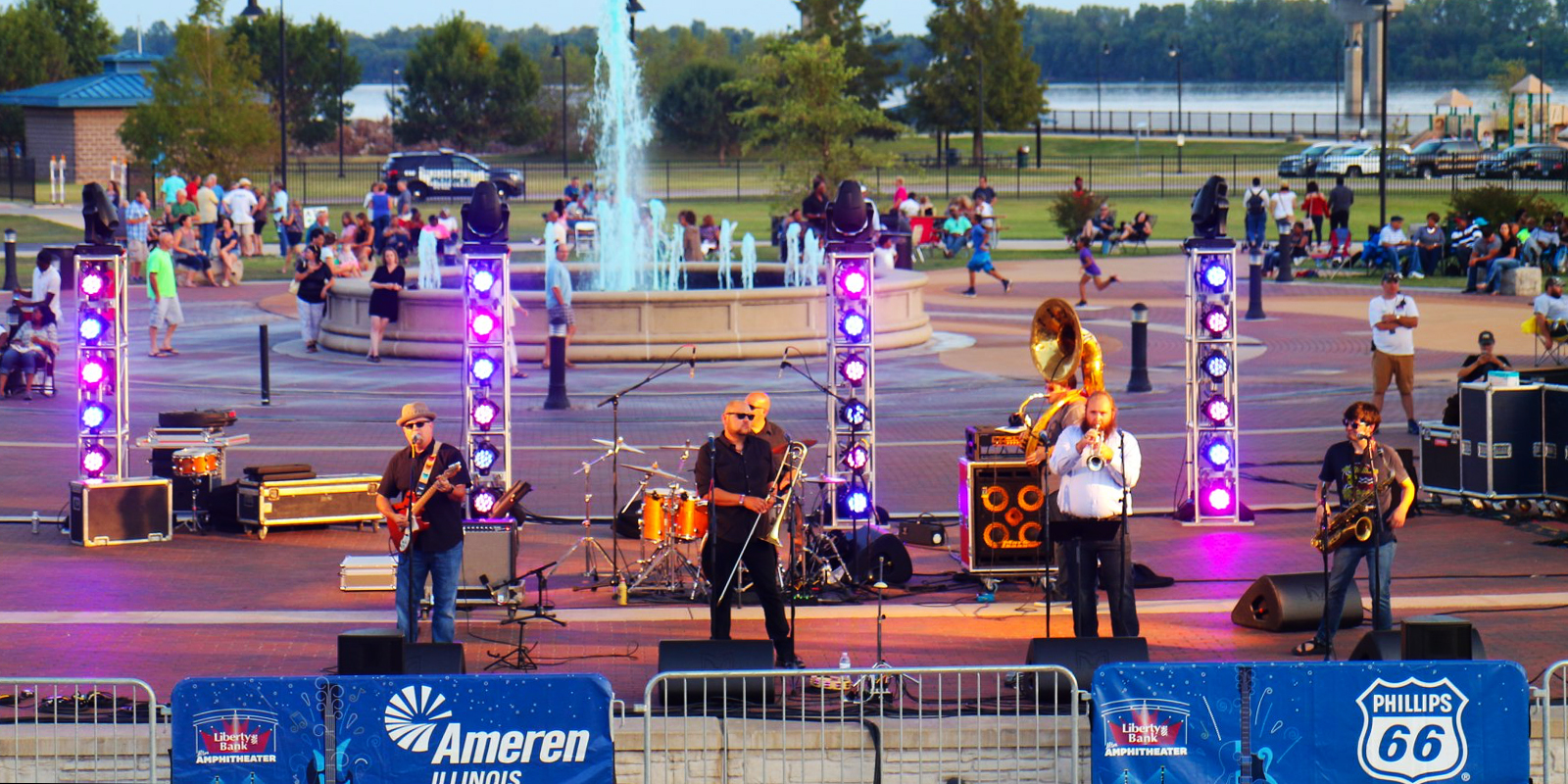 Alton Jazz & Wine Festival
September 4, 2021 @ 7:00 pm
Music and love define the artistry of singer, songwriter, and dedicated community activist Brian Owens. These qualities radiate from all of his work, including his duet with five-time Grammy-winning and legendary vocalist Michael McDonald on SOUL OF FERGUSON, and the heartfelt interpretation of Sam Cooke's "A Change Is Gonna Come," which Owens filmed and recorded with his father, Thomas Owens. Their powerful performance ignited the internet and has received more than 100 million views on Facebook and Brian's own YouTube channel. Owens and McDonald will appear as featured guests on an upcoming episode of Sanborn Sessions, hosted by award-winning saxophonist, composer, and arranger David Sanborn from his home studio in New York.
As a community advocate, Owens is the founder and Executive Director of L.I.F.E. Arts Inc (Leadership, Innovation, Faith and Entrepreneurship), a 501(c)(3) nonprofit that provides artistic resources, opportunities, mentoring, and positive experiences to help students in underserved communities throughout Ferguson and the St. Louis metropolitan area to access consistent and localized programs, experiences and infrastructure. Additionally, Owens serves as the Community Music Artist in Residence with the E. Desmond Lee Fine Arts Collaborative at the University of Missouri St. Louis.
Dave Dickey and the Mosaic Jazz Sextet is an all-star sextet featuring many of the top jazz musicians and music educators from St Louis and Champaign-Urbana.  The band performs the music of Art Blakey and the Jazz Messengers, One For All, and their own arrangements.  Mosaic Jazz Sextet is led by trombonist Dave Dickey, who is also the leader of the 18 pieces Dave Dickey Big Band.  Danny Campbell on trumpet, Ben Reece on tenor sax, Chip Stephens on piano, Bob DeBoo on bass, and Montez Coleman on drums.  Many of the band members have toured the world with well-known jazz and Latin artists.  Bassist Bob DeBoo currently tours with saxophone legend David Sanborn.  Montez Coleman still tours with musicians and used to tour with Roy Hargrove, Wynton Marsalis, and Russell Mallone.  Chip Stephens is an exciting jazz pianist who is a jazz professor at the University of Illinois in Champaign-Urbana.  Chip has toured and recorded with Arturo Sandoval, Maynard Ferguson, Woody Herman, Curtis Fuller, Charles McPherson, Benny Golsin, and many others.
Mosaic Jazz Sextet is excited to include vocalist Malena Smith for their performance at the 2021 Alton Wine & Jazz Festival!  Malena Smith is a singer-songwriter born and raised in St. Louis, Missouri. Malena's vocal style reveals her strong jazz, blues, and soul roots. She has performed on many stages in St. Louis and different parts of the United States, as well as internationally in Japan. Malena's most notable collaborations have included performances with the St. Louis Symphony Orchestra (SLSO), Brian Owens, The Adam Maness Trio, and Quincy Jones' protégé, Clark Beckham. Malena is currently an Artist-In-Residence with Life Creative Group.
On-site box office opens at 5:00 pm
Doors at 6:00 pm
Show at 7:00 pm