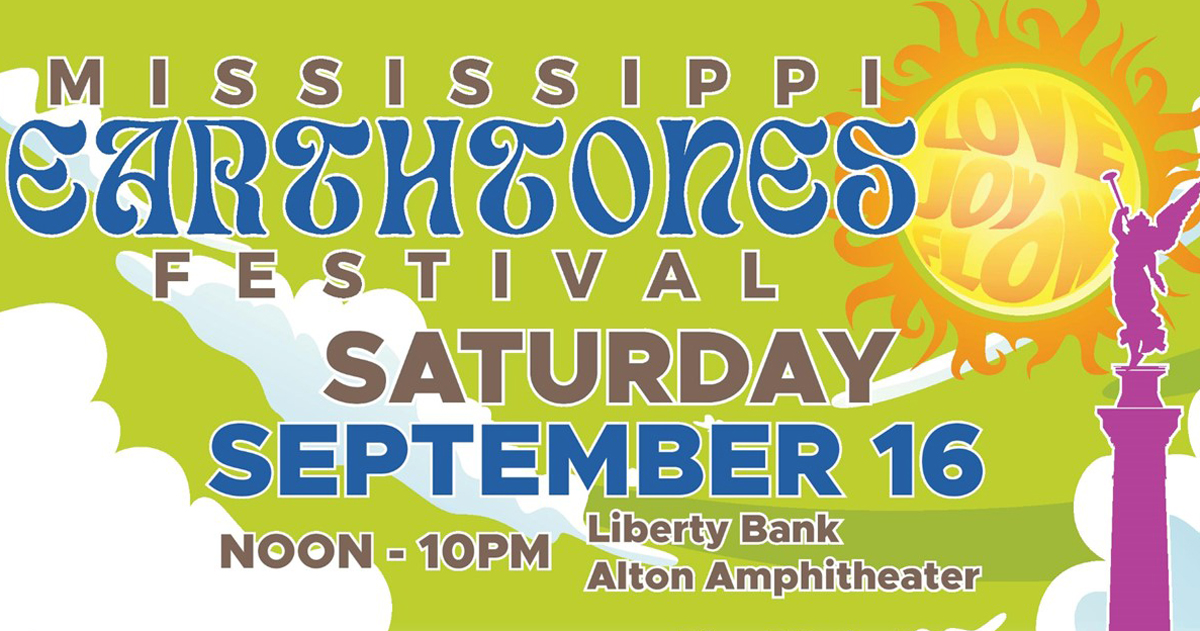 MISSISSIPPI EARTHTONES FESTIVAL
September 16 @ 12:00 pm

-

10:00 pm
~Love Joy Flow~
The Mississippi Earthtones Festival returns to the Alton Amphitheater on Saturday, September 16th from noon until 10:00pm!
The entertainment line-up on the main stage will feature: Mattie Schell & Friends (Americana) from 12:00-2:00, Loftys Comet (Alternative Indie Jazz) from 3:00-6:00, Jake's Leg (Grateful Dead Tribute) from 7:00-10:00, and between each act will be a performance by Jason "Gordo" Gordon (1-Man, 10-Piece Band) from 2:00-3:00 and 6:00-7:00. New this year, ARTICA STL will team up with the Joia World Percussion Marching Band for two rousing performances through the festival grounds. Attendees are welcome to check in at the ARTICA booth and participate in these boisterous parades, one during daylight hours and one after dark.
Dozens of local artists will offer nature-inspired, hand-made, and environmentally-friendly wares. Jacoby Arts Center is lining up an amazing day of performances and interactive art experiences, and all local artists are welcome to participate. Many creatives are being commissioned to design art installations that will enhance the festival grounds. The festival is free to attend, and delicious local food and beverages will be available for purchase.
A variety of fun and educational activities are planned for families from Noon until 6:00 p.m., and there will be several agencies on hand to teach consumers how to incorporate more sustainable practices into their daily lives. Conservation-based organizations and environmentally conscious businesses are invited to apply for booth space or sponsor the event to showcase their products. Exhibitors will have the opportunity to promote their services to a large crowd while also supporting broad community commitment to protect the Mississippi River—our region's most important natural resource.